What Happens in an In-Town Feldenkrais Retreat?
The In-Town Feldenkrais Retreats each offer three days of gentle movement, awareness practice, self-care and restoration; a clean, quiet, comfortable space; an experienced teacher … and you don't even have to travel to enjoy it! Sign up for one or both.
Each day of the Feldenkrais In-Town Retreats will include three Awareness Through Movement lessons. The lessons will vary from quiet breath work to larger, more challenging (and fun!) movements. During breaks you can have tea and snacks in the center's comfortable kitchen, or walk through Dharma Gate's beautiful garden.
The Winter Retreat, February 22, 23 & 24
Our theme for the Winter Retreat retreat will be Breath and Body, an invitation to unravel layers of resistance and wake up sleepy parts of your breathing "apparatus." Gentle movement exercises will be woven together with experiential anatomy and guided self-reflection. Breathing freely, moving pleasurably, and listening deeply will enliven your imagination and bring wellness to your whole being.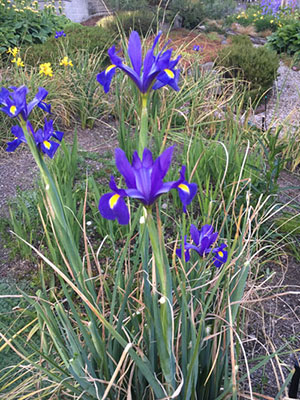 The Spring Retreat, May 3, 4 & 5
During the Spring Retreat, we will be Moving Forward. Through playful and in-depth explorations, you will discover ease and fluidity as you travel from here to there. Weather-permitting, we will do some of our movement practice out of doors.
Why Come to a Retreat?
Come for some solitary time, or share introspective time with new and familiar friends. The manna we'll all share is Feldenkrais Awareness Through Movement, and the process of self-discovery it provides.
"Learning . . . is not the training of willpower but the acquisition of the skill to inhibit parasitic action and the ability to direct clear motivations as a result of self-knowledge." Moshe Feldenkrais, The Potent Self.
Details:
Breath and Body: A Winter In-Town Feldenkrais Retreat
As of 2/18/19—WAIT-LIST ONLY—contact Sheri
Friday – Sunday
February 22, 23, 24
1-5 pm each day
$300
Moving Forward: Spring In-Town Feldenkrais Retreat
Friday – Sunday
May 3, 4, 5
1-5 pm each day
$300
BOTH RETREATS! (one payment): $550
LIMITED SPACE AVAILABLE
Dharma Gate
1910 24th Avenue South
Seattle, WA 98144
How to register:
Payment holds your space on a first-come, first-served basis:
Want to pay by check? Write it out to:
Sheri Cohen, 2366 Eastlake Ave. E #309, Seattle, WA 98102
Questions? Contact Sheri
Two In-Town Feldenkrais Retreats