Join me from the comfort of your own home or workplace for this unique series of online Feldenkrais classes:
Movement explorations will take place seated in a chair—Anyone can do it!
Classes will be 30-40 minutes
All you need is an internet connection with a camera (Use a phone, tablet, laptop or desktop computer)
Need to miss a class? A recording of the lesson will be made available to you to use at your convenience
Join us from anywhere in the world!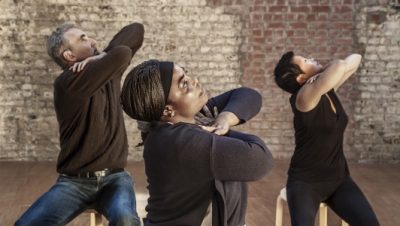 Four Tuesdays
November 6, 13, 20 & 27
10:30 a.m. PST
(Learn more about Feldenkrais Awareness Through Movement classes.)
---
HOW IT WORKS:
1.     Register by making your online payment:
·       Regular rate: $60 for four classes
·       Discount rate for vets, seniors, students & working artists: $40 for four classes
·       Missed the first class? Join the series late for $45
·       Drop-ins by permission only
2.     After you have registered, you will receive an email with an invitation to join the first online class.
·       For the best experience, download Zoom to your computer, phone or tablet ahead of time: https://zoom.us/support/download.
·       You do not need to sign up for a Zoom account to join the class.
·       You may be able to join the class through your web browser, but this is not guaranteed.
·       Please choose a device with a web-camera, so that I may see you throughout the lesson.
·       If no such camera is available, you may connect by audio-only through your device. Please note that I do not recommend this to students new to Feldenkrais. You will have a safer, more fulfilling experience if I can see you.
·       It is not required that you have a microphone to join, but it may be more fulfilling for you to be able to join any conversation we may have time fore.
3.     At 10:30 Tuesday morning, November 6, simply go to the invitation e-mail, and click on the link that follows: "Join from PC, Mac, Linux, iOS or Android".
·       You may be asked to wait before entering the "meeting room".
·       As a courtesy, please mute your audio when you are not speaking. There is a little graphic of a microphone in the lower left corner of your Zoom window.
4.     Choose a chair you'll move in during class
·       I recommend a chair whose seat is flat and horizontal, with very little cushioning, and no arms. A stool is also good.
·       Make sure you are able to sit at the forward edge of your seat comfortably, with your feet on the floor.
·       If you can't find a chair that fits the above description, feel free to work with what you have.
5.     If you have any questions about how to join the online class, please contact me ahead of time: I will not be able to help individuals with technical issues during class time.
A Comfortable Seat: Online Feldenkrais Classes